Reveal the valuable gift you and only you can bring to the world.
Welcome ?

My name is Gudasol (Douglas), and I'll be your guide.

You have chosen a life of purpose. Today, you'll receive a map to the valuable gift you and only you can bring to the world. It's a rough road to unlock your chest of treasure, because before you find it, you'll have to dig through layers of dirt forming from your misunderstood shadows and society's programming.
Just a peek through the eyes of our true self can reveal our purpose in a moment of insight. We have these moments of insight daily, coming as feelings. We often thwart the feelings of our true desires. We even feel guilt for our imagination, and shame for letting our light shine.
When we flow with what feels like a magnetic attraction to where we are curious, we will find we are needed, and watching our gift fulfill this need we discovered, through our ideas, actions, and presence, is greater than any money can buy.
Allow me to be your guide on this journey. Together we'll wander deeper down the rabbit hole of self-discovery with methods like self-check meditation and Ikigai, a Japanese model to determine and live your purpose. We will discover ourself through peeling back layers, and use Ikigai to bring our abstract purpose into a concrete, actionable, communicable final form.
Watch the Intro Video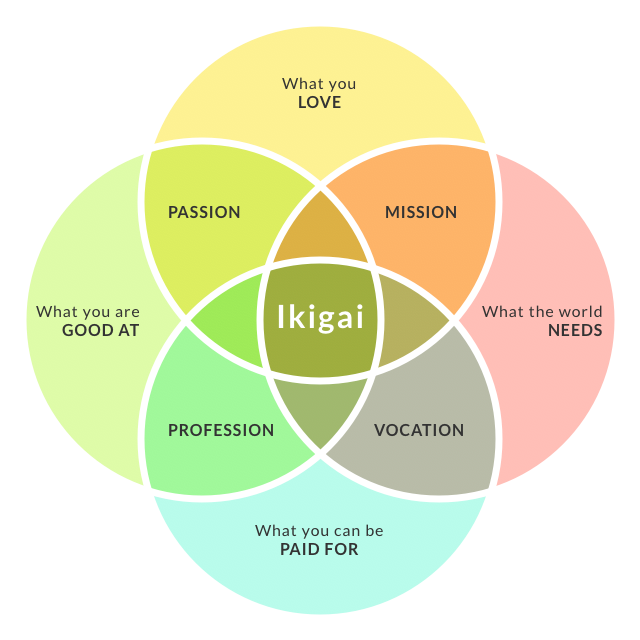 Here's a worksheet from PositivePsychology.com to help you get going in the right direction. Fill it out, then fill out the blank worksheet below according to the reference.